"A friend loves you on a bad hair day or a no hair day…"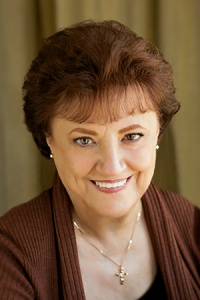 Sherry has been married to her husband Jerry since 1968. They have two grown sons and four grandchildren. Having celebrated her 29th year of being cancer free, Sherry has chosen this time in her life to take to the platform "full speed ahead!" to carry forth her message of humor, hugs and hope.
Sherry's Experience and Training
Sherry has been an inspirational speaker since 1986. Her early training and experience came through Stonecroft's international organization, Christian Women's Club. After her experience with cancer she gave birth to her third child, her award winning book, I Don't Remember Signing up for Cancer! (WinePress). She then graduated from Florence Littauer's CLASSpeakers, Inc. and has also been a member of Toastmaster's International. Her speaking has taken her throughout the United States as well as Canada.
Whether Sherry's speaking for a cancer event such as Race For Women or a Pink Ribbon Banquet, a fundraiser, a businesswomen's conference or luncheon; whether she's speaking to doctor's wives, legislators or children, her heartwarming encouragement, humor and candor are well received. Her audiences have stated that they've found themselves laughing in the most unexpected places.
Some of Sherry's Past Clients
Susan G. Komen Foundation Events (Texas, Pennsylvania, Ohio, & Washington); National Cancer Survivor's Day Events (New York & New Jersey); The Norma F. Pfriem Breast Care Center in Bridgeport, CT; Northwest Medical Center, Tucson, AZ; Providence St. Peter Hospital in Olympia, WA; Cheyenne Regional Medical Center, Cheyenne, WY; Providence Hospital, Medford, OR; Pink Ribbon Luncheon, Lewiston, ID; Southeastern District Health Department, Pocatello, ID; Magic Valley Regional Medical Center, Twin Falls, ID; Camp Mak-A-Dream's Ovarian Cancer Survivors Retreat, Missoula, MT; Roswell Park Cancer Institute, Buffalo, NY; Cancer Patient Care; Cancer Care Northwest; Holy Family, Deaconess, Sacred Heart and Valley Hospitals, Spokane, WA; Greater Spokane Health Association; Lilac Festival Association; YWCA's Benefit Breakfast; Washington Health Care Association; Spokane Writers and Self Publishers; International Training in Communication; Women on the Move Conference, (presented by, Everett Area Chamber of Commerce); MOPS International; Inland Northwest Speakers' Association; National Association of Credit Management; Safeco Insurance; Lutheran Brotherhood Insurance; and more